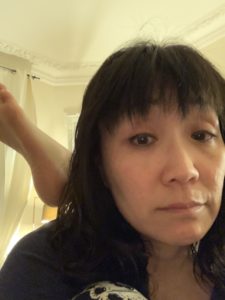 There was a time when I knew everything about my children. I knew their due dates before they were born, remembered their birth weights and lengths. Two were born in the morning. One arrived at 12:02 pm just to be special. I knew what they ate, when they ate it, which side they had last nursed, when their diaper had last been changed.
Do you remember the fear and shock when the hospital just sent you home with your newborn? We did it three times and couldn't believe no one asked any real questions except about a car seat and then double-checked the hospital security bands, which we thought was funny because our kids are all Cheeseheads (born in Wisconsin) so they were the only Asian babies – a full head of dark hair that caused nurses and doctor to gasp each time.
So 8,451 long days that were also 23 short years later my daughter and I traveled through Paris and Iceland in what felt like a dream and master class in parenting a young adult child.
Some things never change
We shared a bed through the entire trip, and I couldn't help but listen to her breathing settle into sleep, watch her move around until she relaxed. She was the same. The infant, baby, toddler, preschooler, little girl, pre-teen, teenager and now young woman all wrapped up in one – still sleeping deeply enough to have once slept through a microburst that tore through our neighborhood. My instinct to cover her and brush her hair away from her face remained.
But so did her instinct to brush away my hand and look at me ever so briefly with a mix of annoyance and familiarity. I want to push away anything and everything, even if it's a wayward cowlick, to make her way easier, more open, better, and her instinct is to push for autonomy and discern her own preferences. It is her journey and story she will perhaps one day tell but of which I am a beneficiary of. After all, her learning to push away is what got us to Paris. She had been planning her own trip to Europe when she asked me if I would join her in Paris.
Parenting a young adult means knowing when to push even if it means getting that look and when to wait for that invitation to join in. It's so much less about the kind of directing I did as the parent of a young child. We were the parents who didn't ask where our children wanted to eat. They ate where we ate. We didn't ask them where they wanted to go on vacation. They went where we took them. We involve them much more now because our children are older with preferences, limitations, interests that are more defined, but it's still so hard to figure out where that line is and how to draw it. But being in Paris with our daughter I knew that these were lines she had drawn to include me as both mother and guest and what an honor and privilege that was.
Some things have to change
I love my own mother very much, but our relationship is different from that of mine with my own daughter. My mother and I still have language and cultural barriers, while my daughter and I have the advantage of having both grown up in the Midwest. I could never quite get my parents to understand the concept of school dances, and I'm still trying to explain to them what a prom-posal is. (Can someone tell me why this is a thing???) The impact of assimilation is palpable in my parenting. My daughter was my Snapchat tutor and helped me find a great deal on my flight to Paris with a different search engine. In my parents' generation and culture of parenting the parent is always the parent, the advice-giver.
My daughter has spaces where she is the expert, the lead, and it was exhilarating, freeing, and unnerving to live it out in Paris. She had spent part of a summer in Paris as a student so she had a sense of the city, the subway, the places she wanted to revisit. She had a plan, and she asked me about my preferences and expectations. More often than not she was the one leading the way through the streets and subway transfers. It was disorienting enough to be in a foreign city, but to see my daughter as the one leading the way was beautiful. Mothers of little ones, hang on. The babies grow up into grown adults who will forever be your babies. Your babies change and have opinions and questions, preferences (thank goodness we both love baguettes, cheese, and red wine) that you cannot dictate. The time is coming. It's amazing.
It's also scary. I'm sure none of my Dear Readers have control issues when it comes to parenting, but I do. I thought it would be easy to let go my tendency to pick up after my child when she was 23 but when you're sharing a small space that messy suitcase spilling out over the floor is as annoying as the messy bedroom at home she will never sleep in permanently ever again. I thought I would know how to read the silence in our time together as intuitively as I learned to interpret her cries. Just kidding. I never could tell the difference between her hungry cry and her diaper cry.
But the chatterbox toddler who asked a million questions doesn't always grow up to be the extrovert. Instead of wishing the questions would stop, I'm learning how to ask questions after I decide what it is I really want to know and understand about her young adult life.
It's not easier. It's different.
A wise older friend once told me, when I was in the thick of diapers and sippy cups, that parenting never gets easier. It just changes.
I felt that intensely as we tried to strike a good balance between being tourists and simply enjoying being in Paris. There were moments vaguely similar to those long days as I wondered if her silence was simply exhaustion, a need for introvert time, frustration with me, or hangriness. And then I had to remember that being the parent of a young adult means your child now has the vocabulary and capacity to answer questions. To be an adult. "I'm not ready for a meal, but I could use a snack. Do you want to keep exploring or join me for a snack?" "I'm fine staying here for another hour or so. Would you like to go ahead to the apartment?" Those were questions we asked each other. Mother to daughter. Daughter to mother.
And then came the goodbye. Somehow nine days that looked like more than enough time to spend together in Paris and Iceland snuck up on us, just like the long days sneak up into years that vaporize. The first day of school is both the best and worst day of the year for me as a mom who has had the privilege of working from a home office. The silence in the home after a long summer of a never-ending revolving door of children and their friends and their toys, electronics (my youngest son's friends are known to bring their gaming PCs over for a night of gaming), socks, hoodies, keys, cars, drama, and heartbreak is both welcomed and lonely.
But when your child no longer lives at home, no longer has clothes in her bedroom dresser or closet the goodbye doesn't get easier. It changes. I thought saying a mutual goodbye at the airport, where we were both headed to our respective homes would be fine.
It wasn't easier. The tears welled up, and I took a deep breath. We both took a deep breath and said goodbye.