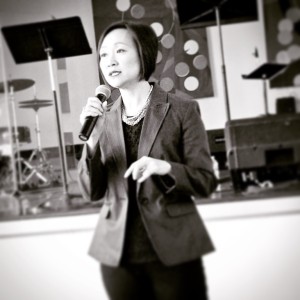 I am the mother of three. Wife of one. I love Jesus. I really, really like yoga & deep breaths, nail polish & lipstick, and girlfriends & their laughter and tears.
I am a writer, speaker, and coffee drinker, and this journey began in childhood diaries & journals, moved into newsrooms, and then to a co-authored book entitled More Than Serving Tea. The book is about the intersection of faith, culture and gender, and it tells just part of an important story of Asian American Christian women.
The title of the book tells as much about the content as it does about me. It connects the hope of "more" to that of a stereotypical image of both "Asian" as represented by the West – submissive servant – and "women" as represented by the West, the East, and by some interpretations of Biblical womanhood. I can still serve others, enjoy tea (I prefer coffee), embrace my complex ethnic/cultural/racial identity and my womanhood, all the while loving Jesus while living and leading in an imperfect world.
If the voice you read on this blog might connect with your church, community group, leadership team, etc., please contact me at morethantea "at" gmail "dot" com. You can also follow me on twitter @mskathykhang or visit my author page on Facebook.
Disclosure/Disclaimer/Legal Details: KathyKhang.com occasionally receives vendor/brand sponsorships for mentioning their products and services. Kathy also receives free copies of books to read and, if she chooses, to review on the blog.