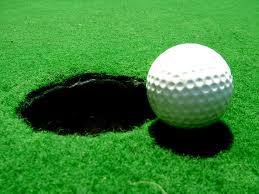 My sons, ages 13 and 10, spend two evenings each week on a golf course because I parent out of my own personal brokenness, which includes an acute awareness of life experiences and skills I was not exposed to growing up. Tennis lessons. Skiing lessons. Swimming lessons. Golf lessons.
Check. Check. Check. Check. (My daughter got the first three. She escaped golf because she has immersed herself into the world of dance for the past few years though it's not completely out of the picture yet.)
One of my goals has been to expose my children to things I didn't do and at one point or another felt like I had missed out on. This all despite the fact that I also wrestle with my own personal prejudices against sports like tennis and golf because they have in one way or another represented privilege and access to opportunities and networks my parents and I did not have.
So it did not surprise me to see a very diverse group of participants on our first day at the course – diverse meaning White or Caucasian children were in the minority. Golf, whether you are in business or in medicine, more if you are male but increasingly so if you are female, is one of those "life skills" that also translates into opportunities and networks that non-White communities continue to learn about and enter into.
(And wouldn't you know that in the crowd of parents one of the other Asian American parents and I recognized each other after having last met about seven years ago!)
But I was a bit annoyed when I found out my sons were asked the following question by a young Black boy on the putting green:
"Are you guys related to Bruce Lee?"
My sons know me, and they have had their many questions about race, ethnicity and culture answered even when they didn't know there was a question to be asked. They have been encouraged to recognize and value both similarities and differences. So C quickly qualified the young boy's question with his own response:
"Mom, don't worry. He wasn't being racist. He just didn't know. Bruce Lee isn't even Korean, right?"
C was correct. Bruce Lee isn't Korean, and the question wasn't racist. The young boy didn't know, and because of what he has and hasn't learned and been exposed to about Asian Americans through school, community, church, media or family, he tried to make a connection between what he knew (Bruce Lee) and what he was currently experiencing (two Asian American boys). The boy was doing what anyone trying to make small talk might do when you are young or older and trying to make a new friend – find common ground. It wasn't racist. The boy isn't a racist. He just didn't know.
But as I have sat and walked around the course for the past few weeks I've been wondering at what point do we move from not knowing to being responsible for what we don't know. I have been the receiver of much grace and the giver of the same as people of different races/ethnicities/gender/faith find themselves making mistakes as well as being stupid, prejudiced and racist. I have found extending grace easier when the offender acknowledges the offense. It really becomes extending grace when the offender sees no offense.
So I'm still mulling over C's response to an innocent question that on another day would have made my tired blood boil had I been the one being asked about my relationship to say Lucy Liu, but was tempered and amazed by C's response, which was to simply tell the boy he wasn't related to Bruce Lee.
And then they proceeded to sink a few golf balls.