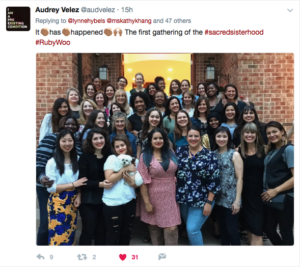 I'm not actually a high-maintenance woman (you can ask my husband), but I can look like one. I love doing my nails and applying sheet masks, and I always have on eyeliner. Red lipstick has always been my fav so if you follow me on Twitter you might have caught wind of the #RubyRevoWootion. #RubyWoo is my new favorite red lipstick and it's less about lipstick and more about connections, platforms, voice, and sisterhood.
And it all started with me trying to not think about my book. My book manuscript is in the hands of my editor. He told me to mentally put it away and not think about all the things I already want to change, add, delete, etc. so I could come back to the editing process with an open heart and fresh eyes.
So I jumped right into dreaming about launching the book, about holding the finished product in my hands, and sending it out to a group of trusted friends and "influencers" who will leverage their "platforms" or circles of influence (which I write about in my book!) and cheer me and my book on by posting Amazon reviews, writing blog posts about my wise and winsome words, and sharing stylized photos on Instagram of my book on their table with the little freebie I give away.
(Insert sound of screeching brakes.)
In the world of Christian publishing I have generally only seen white female authors do what some call the "influencer box" – the box with the book, a lovely note, and a lovely gift packaged with the pretty crinkle-cut scraps of paper that make me want to order french fries in a color to match the cover. It wasn't until my friend Deidra Riggs, who also is Black, sent out her first book "Every Little Thing" with a beautiful bracelet and matching set of notecards had I been the recipient of an influencer box and learned another nugget about the Christian Industrial Complex and marketing to Christian women (and by Christian women it's usually geared towards white Christian women).
So I dreamed and vented with friends Deidra, Jo Saxton, and Amena Brown launching off of a Twitter thread about giving up platforms to return to the "work" of discipleship.
Building or obedience? Or both?
I don't see building up a platform or giving it up as inherently good or bad. I do believe that if God has given you the talent and gifts to teach, preach, speak, and write and you don't do it you will probably have a conversation with God about what you did with those talents you chose to bury. Personally, I have not set out to build a platform for myself. This space, my "voice" and influence has been 25 years in the making, maybe longer, and it has been a call to discipleship and obedience sometimes at great cost and indescribable blessing. This work of writing and speaking and in the process building a platform is about discerning what God's invitation is to me, my family, and my community. How will I steward the gifts, talents, connections, and influence I have?
And in talking with my friends we agreed that the journey is very different for women of color. VERY DIFFERENT.
That is probably a blog series or a book alone. Just trust me, My Dear Readers. The journey is different for women of color no matter how many similarities all women have.
Back to the lipstick
So we come back to my soonish-to-be-published book and my hypothetical influencer box. I wanted "the gift" to reflect me and my voice and, though the book isn't a "woman's book," I did not want to shy away from the fact that the power of my voice comes my living into my female voice.
My hypothetical influencer box would include a single-serving bottle of champagne (because launching a book is a celebration, and I love champagne) and a tube of lipstick.
But as My Dear Readers who wear makeup already know, makeup is tricky and lipstick colors get trickier. Women of all skin tones grow up with different messages about wearing makeup – when you can, if you can, what it means, etc.  And how do you find a lip color that looks good on a group of racially, ethnically diverse women? Because if an imaginary donor or book launch fairy godmother was going to help pay for a tube of lipstick for my influencers it better work for my dark-skinned friends as well as my light-skinned friends because I am not color blind. And, I am that friend who would tell you that that color doesn't look good on you.
And that's how and why I started tweeting and asking around about MAC cosmetic's #RubyWoo. I think it was Jo who mentioned the specific color to me around the time I had Googled "is there a universal red lipstick" where the first article was about #RubyWoo.
And then Deidra started this Twitter thread about "Women I'm for:" with an ever-growing list of amazing women with their own circles of friendships and spheres of influence. I'm no marketing genius, but that thread of women have opinions so I asked if anyone had a connection to MAC or wore #RubyWoo. Maybe I am a marketing genius (where is that commission check, MAC?) but now that thread includes about 50 very diverse women trying on red lipstick for the first time, posting a photo of themselves wearing #rubywoo, and feeling like they are a part of something big and new and fun and beautiful because we are part of what I'm calling the #RubyRevoWootion.
So if you want to join the #RubyRevoWootion just put on that bold red lipstick (or put on whatever makes you feel empowered and fierce and speak up. Love one another boldly. Cheer on one another fiercely.