Yes. It was worth it.
Waking up two teenage sons at 4:15 am on a Saturday morning to stand in line at 6 a.m. with family, friends, and thousands of strangers for two hours in hopes of a ticket was worth it (mainly because we were lucky to get tickets).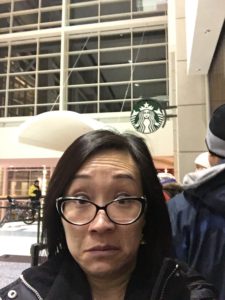 Standing in line for hours before getting through security to even get into the venue to hear President Barack Hussein Obama say goodbye was worth it. Standing butt to belly button (thanks Melissa for a more colorful version of that phrase) waaaaaaaaaaay back from the podium to be there in the standing room where it happened was worth it.
It was worth it because it was good for my soul to be amongst people who did not agree with everything done under Obama's two-term presidency, but wanted to be there and together to see and hear not just Obama but one another.
It was good to share that with my husband, sons and friend Tina because we occupy different generations, genders, social circles, and sometimes belief. It was worth sharing stories with our closest strangers in line about why they were hoping for tickets or where they drove in from to attend #ObamaFarewell. It was worth being reminded that the apocalypse had not yet arrived.
It was worth being in the room when President Obama was announced and welcomed to the podium and the crowd, incredibly diverse and patient, erupted into applause and for some tears. It was worth having my older son Corban lean on my shoulder and ask me if I was going to get emotional and tell him that I was already emotional.
It was worth the small risk of not getting a ticket, not getting close enough, not seeing the President of the United States up close to experience live his loving, respectful comments about his wife, his daughters, his vice president. It was worth knowing my sons heard and saw Obama speak tenderly, respectfully and honorably about his wife, about his daughters, about his colleague and friend. It was worth it.
It was worth thinking back to Obama's win in 2008, which nudged me to consider applying for naturalization. It was worth remembering my first vote in a president election was for Obama in 2012 and my first vote in a presidential primary in 2016 was for Hillary Clinton. It was worth thinking about the sinking feeling as the election results came in…oh, hell no. No.
The energy was celebratory, hopeful, eager and it made me miss church which has too often in the past few years left me wondering where was and what was the Good News. It made me miss fellowship and communion because President Obama's farewell address felt a bit like fellowship.
It was worth it.
So one week later I'm headed off to celebrate democracy and the peaceful transfer of power by marching with my daughter, friends, and thousands of strangers in the Women's March on Washington the Saturday.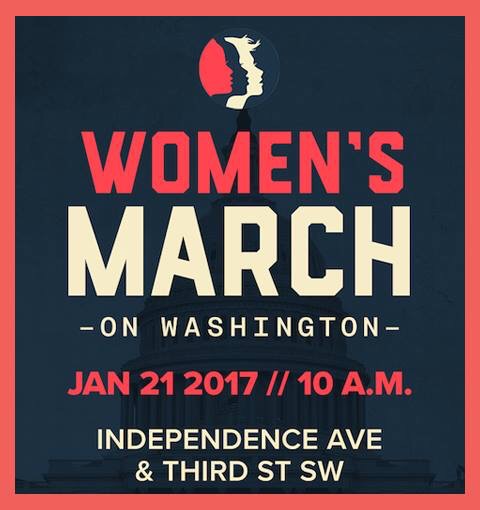 This is not to throw shade at those not marching for whatever reason, but I owe it to my Dear Readers to explain why I am marching in an imperfect march. I am opting in because I also know many of my friends can't. Maybe they will march locally but others won't or can't. They can't skip work. They don't have the energy. They aren't physically able without assurance from march organizers routes are accessible. I am opting in because I want to support my daughter Bethany and she wants to support me. I am opting in because the three white women who founded the event almost found out too late about intersectionality, so some of my friends and I are making sure we bring our imperfect intersectionality. I am opting in because no matter what happens at the inauguration the day before, I will not stand for a leader, any leader, who thinks grabbing any woman's pussy is locker room talk. I am opting in because I am my sister's and brother's keeper even when it's inconvenient. I am opting in because my relative space of privilege as a heterosexual married woman means fighting for the civil rights of my LGBTQ neighbors. I am opting in because the Bible has taught me that trusting and believing in God's sovereignty is not the same as sitting back and not doing anything.
Not everyone is called to protest, to march, to speak out publicly on Facebook and Twitter. Not everyone is called to be "that kind of activist" but I believe as Christians we are all called to act justly, to love mercy, and to live humbly in all of our spheres of influence and we can't do that by expecting people to figure it out through osmosis.
I'm here for it all and it's worth it.