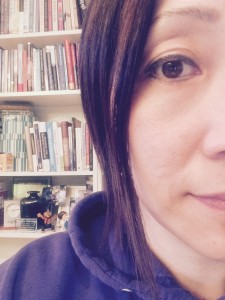 I have a habit I cannot break. I actually don't want to break it.
I cannot walk past a cosmetics display without a cursory glance. Sephora stores are my weakness because of their willingness to feed my craving for free samples. A few years ago when money got tight I took on a seasonal job selling cosmetics at a department store and thorougly took advantage of free makeovers during slow parts of the day as well as sampling everything and anything the counter manager was looking to test out. My nail polish collection is amazing but leans towards bright colors with limited neutrals. I have started to ease up on collecting samples because I don't want to be a hoarder. Koreans are serious about their skincare, and as a Korean American I want to honor my motherland by caring for my skin with the occasional sauna, facial, and massage as well as frequent paper facial masks. And the last straw was when the manager at the local mall's Sephora store heard me rave about a product another customer was trying out; the manager suggested I should apply for a job because of my soft but enthusiastic sell.
Applying makeup is an act of spiritual formation.
If you're laughing, don't judge. If you aren't laughing we might be kindred spirits.
Being a woman of color poses unique challenges to identifying, rejecting, and fulfilling American beauty standards as well as creating new standards and definitions. How many of us have been told that "beauty is in the eye of the beholder"? Or "beauty comes from the inside"?
Then why did God give us physical bodies? Why not just make us spirits that float around and whoosh past one another instead of giving us eyeballs that give each other the once over?
I don't think it's actually Christ-like to ignore our bodies nor poo poo the spiritual work that goes into reconciling our own insecurities with our creativity and expression of that creativity and cultural norms and pressures. I don't feel the pleasure of God when I run. I feel like I am running out of oxygen. I feel the pleasure of God when I put on clothing, makeup, shoes, and jewelry that expresses the way I feel I am made – strong and beautiful (though some days I am made of lycra and cotton – stretchy with a tendency to absorb too much). It's not the only time I feel God's pleasure, but darn it if on a day I don't feel like much of anyone or doing anything a bit of lipstick (a shade of red) and a sweep of brow pencil doesn't pick me up.
Superficial? Yes. Spiritual? Yes.
I look in the mirror and have to admit, even for a moment, and even if I might not believe it an hour later: God, you did good. Thank you for today, for this day, for this body, for my health, for my smile. I love who you've made me, and that includes my face. Weird? I hope not. Our faces are part of our bodies, connected to our souls. We praise God with our lips and raise our eyes to the heavens. Even if we cannot speak or see, our faces are part of our worship.
It's a privilege. I have some extra money I will spend on paper facial masks that get thrown out. I'm not stupid. I get that what I can do in the name of self-care is a privilege of my socioeconomic status and geography. I also carry the voices from as far back as I can remember that to this day in American culture that say my eyes are too small and look like almonds or are hooded, that say my nose is flat just like my chest, my face is round like the moon because Asians are all about almonds and moons.
In the quiet moments even in my 40s it is an ongoing conversation with God about being created as an image bearer and being beautiful rather than exotic – beautiful inside and out – because that is what women of color of all ages have had to fight against. Why is it that women of color, particularly the Christian ones,  are supposed to be satisfied with being beautiful on the inside while the white girls and women get to define beauty – outside and inside.
NO.
So why these thoughts now? My Dear Readers from the beginning know that I am able to cry buckets and not have makeup running down my cheeks. What is this sorcery you ask? What kind of eyeliner do I use that does not run down my face with every wave of sadness, extreme laughter or the Holy Spirit?
It's a tattoo. My first tattoos were on my eyelids, top and bottom, done not only with the blessing but with full participation of my mother AND grandmother. The three of us, plus Bethany as a nursing infant, went to see a tattoo artist (and that is what he was, Dear Readers – a true artist proud of his craft) to have our eyeliner tattooed. My mother and grandmother went one step further and had their eyebrows filled in. My grandmother whose face-washing ritual was like a ballet, joked that the tattoos were necessary with age because her hands were shakier, and she wanted the mortician to know exactly she wore her makeup so it had to be on when she died. (She has since passed away, and my mother, aunts, and I had a poignant moment at her casket talking about how good my grandmother looked in her casket.)
So these thoughts have rushed back into my heart and mind as I head off tomorrow afternoon to have my eyebrows done with my mother coming along. My mother and I this morning talked about making sure my eyebrows softened my face because I have a tendency to look too harsh. I used to take offense to that but over the years have understood her comments are about knowing who I am inside and finding ways to express that authentically and genuinely on the outside. Older Asian Americans will understand. My mom "sees me" and is reminding me to brush off what others may think or say and ask the tattoo artist to use her skills to express what over-plucking my eyebrows has failed to do.
It's complicated. I'd be lying, and you would know it and call me out on it, if I said figuring this stuff is easy. But let's be real. Being women and being women of color specifically is not easy. You're dammed if you do and if you're dammed if you don't. If you don't "take care of yourself" you won't get a man or keep a man, even if men aren't your thing or a priority. If you take too much care of yourself you are vain. If you are flat-chested, you're outta luck. Padded and push-up bras. If you get a boob job you are trying to please men because what woman could possibly want any of her clothes to actually fit or not want to look like a boy or could maybe just MAYBE want boobs because SHE WANTS BOOBS?! If you wear makeup you're vain. If you don't wear makeup you don't care how you look. See. It's not easy. Add to that the whole race and ethnicity piece and you've got a whole lot of levels.
But bring it on.
If you've heard me speak publicly, you know that I love being a woman. I love that our bodies can do something that NO MAN can do. Our bodies are designed to carry, nurture, and sustain life, and with modern technology (or, in Mary's case the Holy Spirit) we don't even need a man. How crazy is that?! We intimately know what it means to bleed as a part of giving life, even when we haven't given birth. We know about fear and hope and joy and dread and waiting in Advent in a way men physically never understand. (And for those of us who have given birth, how come the Virgin Mary always looks as amazing as Princess Kate did postpartum?) I love being a woman.
So, Dear Readers who also are Dear Sisters, in this time of waiting and darkness that has been rather difficult, if not truly life-threatening and draining, be kind and be strong for yourself as an image-bearer of God.
And if that means throwing on some fabulous lipstick or mascara, I'm with you in body and  spirit.
Amen!
And here is the before, during, and after.