That was the refrain last week as I vacationed with my sons. They are both in their 20s. Their voices dropped into manhood years ago. They packed shaving cream and razors instead of their blankies and stuffies. They needed the extra leg room the free upgrade into exit rows afforded us. And they needed to eat, and I needed, well, really wanted, to feed them well.
My Dear Readers, there is nothing quite like watching your loved ones enjoy food. Wait, am I the only one? Do you love watching your loved ones eat? I don't know what it is. I have always loved watching my kids eat – the delight of new tastes they enjoy, the looks of "I don't enjoy this", and the look of satisfaction at the end. I love it all. The pickiest eater of the three will try just about anything so the possibilities are endless. (So parents of young ones tired of chicken nuggets, don't worry. They get new tastebuds, and be prepared. Those new tastebuds like it when the parents pay for a good steak or hazy IPA.)
In my mind this was a trip about feeding their stomachs, and it was. We were in LA so the minute we were in the rental car it was off to eat. We ate cheesy kalbi jjim, marinated pork belly + beef, kkal gooksu, Japanese curry, handmade mochi, taiyaki aisu, okonomiyaki, and a good old-fashioned brunch with pancakes and hash browns.
But food is also about comfort and provision, about love and time, about honoring and learning preferences, about sitting and listening. 
It was time to get to know my sons and the men they are becoming.
They take up space and make space
When the kids are little, their stuff takes up space. I remember the days/weeks/eons of trying to corral their toys and books and stuff into cubbies and shelves to be safely accessible and slightly esthetically pleasing. 
But one child moved out more than five years ago. One lives and works remote from home; he took the dining room for his office. We coordinate schedules because we share a car and make each other coffee. The last one is in his third year of college so most days are spent he spends 3/4 of the year on campus. Gone is the clutter of toys, replaced by adult bodies moving about in the same space toddlers once occupied.
So spending 24/7 for a few days with just my boys meant being in each other's way (one budget hotel room with two "queen" beds and one bathroom) and having a chance to just watch how they made space for each other and me, waiting to walk to the elevator and the car, waiting to enter a restaurant or to get to the door. 
The older son took a work call, and it was fun driving with E riding shotgun, whispering and using facial expressions and hand gestures that finally gave way to playlists and commentary.
Different eyes
I think I was watching them more closely because I know that time like this is rare. I love and like my grown children, and so far they like spending time with me. The kids have cleared social and work schedules to spend a week together for a family vacation on top of being together for Christmas. I don't know how long we can keep that up and how in the future significant others and partners will join in on the Christmas Day movie or invite our kids to join their family traditions. But for now, I'll take it all in.
Both sons needed time in the morning to ease into the day. They both needed time to exercise and unwind. In another season of parenting, I would've pushed to get us out the door to get to one more place and see one more thing, but in this season that started during the college years I let them sleep, workout, fix their hair, and walk slowly. This world can be a cruel, grueling place. I saw them with compassion knowing Capitalism doesn't all us to enjoy each other's joy and rest.
They wanted to spend a good chunk of a day watching professional teams play League of Legends and asked if I wanted to join them at the tournament, a little worried about how I would spend my time and a little worried I would rush them. No rush. I said go ahead, had coffee with a friend, and then sat on a bench at the beach to watch the sunset. I know. A mother's sacrifice. And when C saw two players in standing on the corner in Sawtelle, I asked, "Are you going to say hi and ask for a photo?" A mother's gentle nudge to shoot your shot, even if it's a moment of fandom. I'm smiling while typing this, remembering how my boys and their friends took in the random moment and played it over and over in the car with the photos to prove it happened…and I got to see it all, too.
I also watched them eat, trying to gauge if they had enough protein, offering up half of my egg or a chunk of tofu. "Did you have enough? Do you need more? Do you want this piece?" I asked at every meal, not with the eyes of a mom of little ones who cannot efficiently feed themselves but of a mom who will not have many more opportunities to be the one to take care of their needs and wants. Corban said I was doing it more than usual, and maybe I was. There is a bit of a juggling act as a Korean American mom of Korean American sons; my loving and caring should not be enabling man-baby behavior. I'm still learning how to mother young men to be grown men. IYKYK.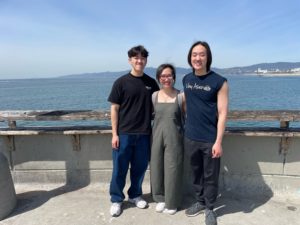 And so I listen to Corban and try to eat and listen to what my needs might be as well.
The years really are short
I tell parents of younger children time sped up when the oldest started high school. Before I knew it the last one was a high school senior and we were in a global pandemic. He was so moody and grumpy but weren't we all? I've heard so many friends say that first year of the pandemic was so long and so recent, time bending in ways we don't understand. That's parenting. I swear I just gave birth but that's impossible because I'm also post-menopausal. My joints remind me that my body did some crazy stuff but my mind says it was just yesterday.
But it actually was just last week my boys and I woke up in the same room, and I asked, "What do you want to eat today?"